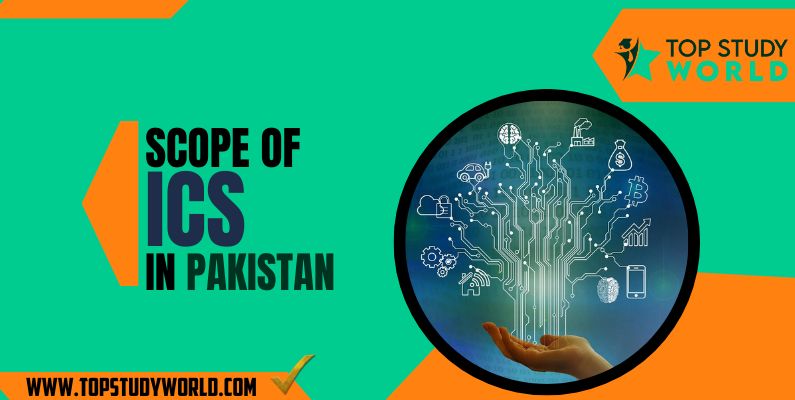 Computer science is the study of computers and their applications, such as software development, web design, data analysis, artificial intelligence, and more. Computer science is a rapidly growing and evolving field that offers many opportunities for learning, innovation, and career advancement. In Pakistan, computer science is one of the most popular and in-demand fields of study among students who want to pursue higher education and professional careers in the IT sector.
Intermediate computer science (ICS) is a two-year degree program that provides a general education in information technology and software development.
FOLLOWING ARTICLE IS WRITTEN BY: Aleena Hussain

In this article, you will learn:
Information and Computer Science (ICS) is a world-class department in the Donald Bren School of Information and Computer Sciences at UC Irvine. In ICS, we create new knowledge by inventing novel uses of computing technology, by creating new computing technology, and by studying the ways that computing technology can benefit society.
Students interested in pursuing an undergraduate degree in ICS will find the program to be  a challenging one, with a wide variety of courses to choose from that aim to engage students both intellectually and practically.
The ICS program offers three majors: Computer Science, Informatics, and Software Engineering. Each of these majors provides students with a solid foundation in computer science theory and practice as well as hands-on experience with current techniques for building software systems.
 Informatics is the science of information. 
It encompasses the study of computer and communication systems and their applications in information processing, the design and implementation of data structures, algorithms, and programming languages for storing, manipulating and retrieving information, the modeling of complex phenomena involving uncertainty and decision-making under uncertainty, the design of human-computer interfaces, and the study of social implications of information technologies.
Informatics is also concerned with managing large amounts of complex data in an efficient manner as well as applying information technology tools to support decision-making in organizations.
Jobs of  ICS in Pakistan
Salary of ICS in Pakistan
Find Out This Field is a Match for You
And much more. Keep reading.
Quick Jumps
What is ICS?
Are you done with Matric and don't know what to do next?
Do you have a knack for computers? If Yes, then how about ICS! ICS stands for Intermediate in Computer Science.
It is a higher secondary school certificate with a major in Computer Science. It is done after Matric or 10 years of academic education.
ICS is for a duration of 2 years and is an alternative for FSC (Pre-Engineering). You can do a Bachelor's in Computer Science or opt for Engineering after this.
Its curriculum is defined by the Punjab Textbook Board. The total marks for this program is 1100 with 550 marks comprising each part.
The COMPULSORY subjects for ICS are:
English
Urdu
Pakistan Studies
Islamic Studies
Computer Science
The OPTIONAL subjects for ICS are:
Mathematics
Statistics
Physics
Economics
After doing ICS, you can apply for a job in any IT firm, computer programming or data collection company.
Due to the rise of e-commerce and technology; commercial, manufacturing and banking sector organizations hire computer tech workers readily.
In these agencies, you will be hired as a software trainer, digital data managing assistant, graphic designer, software developer, database administrator or hardware engineer.
With further work experience and academic certification, you can easily acquire the posts of systems administrator, web manager, senior software engineer or other high posts in this field.
With part-time, internships or freelance jobs, you can pursue your higher education.
You need a Bachelor's or graduate degree for better employment opportunities
With ICS you can do CSS, CA (Chartered Accountant), BSCS (Bachelor's of Science in Computer Science), BS IT (Bachelor's in Information Technology) or even BBA.
What Are the Required Skills in ICS?
As you are studying ICS, you don't need to learn a skill at the moment. But if want to stay ahead and want to learn to become a future expert, you need to learn modern technologies.
As you know the world is changing in technologies. Every day you will find a new product to work on, and the companies are demanding skills you must have.
It depends on the career path you take. For example, if you become a web developer, you need to learn Github.
If you want to work internationally, it is critical to work on the soft skills that you can develop from the starting days in your ICS classes.
What are soft skills?
Great Communication Skills in Verbal and Written
Writing Professional E-Mail
Speaking Professionally and with Confidence
The list goes on.
Also, you must learn the following technologies:
Trello
Asana
Google Sheet
Google Doc
Adobe Photoshop
HTML
CSS
JS
The future is machine learning and becoming an expert in Python will help you to secure a fantastic job in a good company in Pakistan and abroad.
And do you know 77% of Employers Not Happy with the Quality of Pakistani Graduates
These are the skills that lack in fresh graduates in Pakistan
Verbal Communication (83.63%)
Positive Attitude (71.93%)
Team Working (64.91%)
Critical Thinking (59.06%)
Self Confidence (59.06%)
Written Communication (57.31%)
Drive &Resilience (57.31%)
Stress Tolerance (47.37%)
Adaptability (46.20%)
Time Management (45.61%)
Self-Awareness (45.03%) and Planning &Organizing (45.03%)
Integrity (43.86%)
What Are the Career Prospects of ICS?
Is charged with installing, supporting and maintaining computer systems and servers and intranets. Is responsible for the reliability and upkeep of such data communication systems.
Is responsible for the hardware configuration and physical components of a computer. Updates manage and tests the design and layout of a computer for increased efficiency.
Web Application Developer:
Is a software designer who is responsible for IT duties like web development, programming, designing network applications and coding.
A professional who builds and develops computer systems and application software products, computer games and runs network control systems by using engineering principles and programming languages.
Is responsible for creating visual concepts like the overall layout and production designs, such as images, typography or motion graphics for various advertisements, magazines and other corporate reports.
What Are the Important Points To Be a Linguistics?
Interests:
Computer Studies
Machinery
Mathematics
Information Technology
Graphic designing
Software application
Languages
E-commerce
Academic Qualifications:
Minimum 10 years of compulsory education.
Matric completion, preferably with Computer Science subject.
Students with O'Levels degree in Computer Science should obtain an Equivalence Certificate from IBCC (Inter Board Committee of Chairmen).
Work Form:
Regular office timings.
Part-time job schedule.
Work Place:
Regular offices for a part-time job.
In classrooms or academies for further education.
Obstacles:
You need a Bachelor's degree for good employment opportunities.
The pay compensation is often insufficient with respect to work.
What are the Computer Scientist Salaries in Pakistan?
The average salary of a software engineer is Rs 750,000 per year (62,000 per month) in Pakistan according to GlassDoor that is the data collected from 13 employees in Pakistan.
And I have found people earning more than Rs. 50,000 a month during their ICS classes from freelancing because they learn the skills from Youtube and earn from Fiverr and Upwork.
You can find Computer Science related jobs in Pakistan from
Here is the sector-wise salary in Pakistan, data taken from LUMS Prospectus that is a prestigious university in Pakistan.
Health Care (Rs. 100,000 per month)
FMCG (Rs. 85,571 per month)
Home Appliances (Rs. 75,000 per month)
Engineering (Rs. 75,000 per month)
Group/Conglomerate (Rs. 71,676 per month)
IT/Technology (Rs. 61,676 per month)
Textile (Rs. 55,000 per month)
Transport (Rs. 55,000 per month)
Banking/Financial (Rs. 52,042 per month)
Consulting (Rs. 52,042 per month)
Manufacturing (Rs. 50,000 per month)
Packaging (Rs. 50,000 per month)
What is the Future of Computer Science Jobs in Pakistan?
When you type computer science's jobs in Pakistan, you can also write your city name instead of Pakistan to find the jobs.
Pro Tip:
Go to Tool>Select Within 24 Hours, past week etc . You will be the first to apply for the job hence more chances for the job getting in the industry.
You can also use Google Image that is a handy tool for finding jobs.
You can search the jobs in your city or province, and you can conclude either you should select this field or not based on the jobs available.
What are the Universities in Pakistan Offering Admissions in Computer Science?
These are the universities that are offering computer science in Pakistan.
| | |
| --- | --- |
| Institute | City |
| 1. Abbottabad University Of Science And Technology | Abbottabad |
| 2. Women University Azad Jammu &Kashmir | Bagh |
| 3. The Islamia University Of Bahawalpur[sub Campus] | Bahawal Nagar |
| 4. The Government Sadiq College Women University | Bahawal Pur |
| 5. The Islamia University Of Bahawalpur | Bahawal Pur |
| 6. University Of Science &Technology | Bannu |
| 7. Al-khair University | Bhimber |
| 8. The University Of Buner | Buner |
| 9. University Of Malakand | Chakdara |
| 10. Bacha Khan University | Charsadda |
| 11. Bahauddin Zakria University,multan[d.g.khan Campus] | D.g.khan |
| 12. Gomal University | D.i. Khan |
| 13. Fata University | Darra Adam Khail |
| 14. Government College University, Faisalabad | Faisalabad |
| 15. Government College University, Faisalabad | Faisalabad |
| 16. Government College Women University | Faisalabad |
| 17. National Textile University | Faisalabad |
| 18. National University Of Computer And Emerging Sciences ( Faisalabad Campus ) | Faisalabad |
| 19. University Of Agriculture | Faisalabad |
| 20. Karakoram International University | Gilgit |
 In order to find the department of computer science in any university, just type computer science+ university name like….
What is the Trend of Computer Science in Pakistan?
Google has created an amazing tool called 
Google Trend
 that shows the searches being done by the people living in the country or city.
I am searching do people search for computer science in Pakistan? If so, which province or city.
Here you can see it all.
FAQs
What is ICS? ICS stands for intermediate computer science, which is a two-year degree program that provides a general education in information technology and software development. ICS is offered by many colleges in Pakistan, both in the public and private sectors .

What are the eligibility criteria for ICS? To apply for ICS, a student must have passed the matriculation examination with at least 50% marks in science subjects, such as physics, chemistry, mathematics, and computer science. Some colleges may also require an entrance test or an interview for admission .

What are the subjects taught in ICS? The subjects taught in ICS vary from college to college, but generally include core courses in computer science, such as programming languages, data structures, algorithms, databases, operating systems, web development, etc. ICS also includes elective courses in mathematics, statistics, physics, English, Islamic studies, etc .

What are the benefits of studying ICS? Studying ICS has many benefits, such as:

It provides a solid foundation for further studies in computer science or related fields, such as software engineering, computer engineering, information systems, etc.
It equips students with the basic skills and knowledge required for various IT jobs, such as computer programming, web development, data entry, software testing, etc.
It enhances students' logical thinking, problem-solving, and creativity skills.
It exposes students to the latest trends and technologies in the IT sector.
It opens up many opportunities for learning, innovation, and career advancement.

What is the scope of ICS in Pakistan? The scope of ICS in Pakistan is very wide and promising. According to a report by the Pakistan Software Export Board (PSEB), the IT industry of Pakistan has grown by 40% in the last year and is expected to reach $5 billion by 2023. The demand for skilled and qualified IT professionals is increasing both locally and internationally. There are many sectors that require IT services and solutions, such as banking, education, health care, telecommunication, e-commerce, etc. There are also many IT companies and startups that offer attractive salaries and benefits to ICS graduates.

What are the career options for ICS graduates? ICS graduates have many career options to choose from, depending on their interests and skills. Some of the common career options are:

Computer programmer: A computer programmer writes code to create software applications or systems using different programming languages and tools.
Web developer: A web developer designs and develops websites or web applications using HTML, CSS, JavaScript, PHP, etc.
Data entry operator: A data entry operator enters data into a computer system or database using a keyboard or other input devices.
Software tester: A software tester checks the quality and functionality of software applications or systems using various testing methods and tools.
IT support technician: An IT support technician provides technical assistance and troubleshooting to users of computer systems or networks.

What are the skills required for ICS graduates? ICS graduates need to have various skills to succeed in their careers, such as:

Technical skills: ICS graduates need to have a good knowledge of computer science concepts and principles, as well as proficiency in different programming languages and tools.
Communication skills: ICS graduates need to have good oral and written communication skills to communicate effectively with clients, colleagues, and users.
Teamwork skills: ICS graduates need to have good teamwork skills to work collaboratively with others on projects or tasks.
Problem-solving skills: ICS graduates need to have good problem-solving skills to analyze problems and find solutions using logic and creativity.
Learning skills: ICS graduates need to have good learning skills to keep themselves updated with the latest trends and technologies in the IT sector.

What are the challenges faced by ICS graduates? ICS graduates may face some challenges in their careers, such as:

Competition: ICS graduates may face competition from other IT professionals who have higher qualifications or more experience.
Pressure: ICS graduates may face pressure from deadlines, clients' expectations, or workloads.
Security: ICS graduates may face security risks from hackers, viruses, or malware that may affect their software applications or systems.
Ethics: ICS graduates may face ethical dilemmas from privacy issues, intellectual property rights, or social responsibility.

How can ICS graduates overcome these challenges? ICS graduates can overcome these challenges by:

Improving their skills and knowledge: ICS graduates can improve their skills and knowledge by taking online courses, certifications, workshops, etc. that can enhance their resume and portfolio.
Networking with others: ICS graduates can network with other IT professionals, mentors, or peers who can provide them with guidance, feedback, or opportunities.
Protecting their work: ICS graduates can protect their work by using encryption, backup, antivirus, or firewall software that can prevent or minimize the damage from security threats.
Following the rules: ICS graduates can follow the rules and regulations of their employers, clients, or the IT industry that can ensure their ethical and professional conduct.

Where can I find more information about ICS? You can find more information about ICS by visiting the websites of different colleges that offer ICS programs, such as:

[Government College University Lahore]
[Punjab Group of Colleges]
[Superior Group of Colleges]
[The City School] You can also search for more information on Bing using keywords like "ICS in Pakistan", "ICS scope in Pakistan", "ICS colleges in Pakistan", etc.
Did you like the article? Do you feel something is missing in the article that I should write about? Leave your comment below, it means a lot to me 🙂