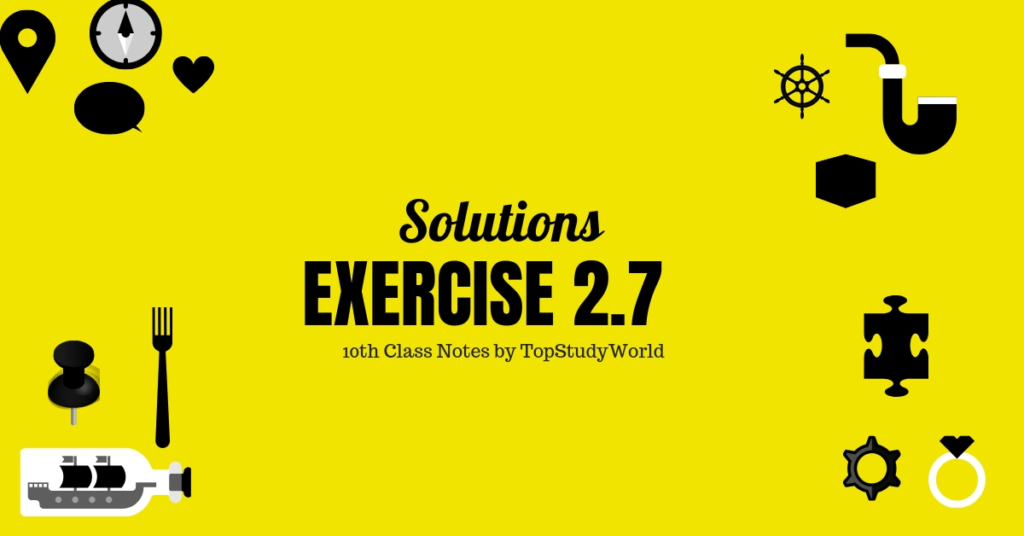 Are you finding the solution of Exercise 2.7 of 10th Class Mathematics?
If yes, you are in the right hands.
If you belong to any of the boards for SSC Part 2 in Pakistan:
Federal Board (FBISE)
In Pakistan, the Federal Board of Intermediate and Secondary Education (FBISE) is an autonomous body of the Ministry of Education, Government of Pakistan. The Board was created in 1975 through a legislative act of the Parliament and started functioning in April 1976.
Its main purpose is to hold exams at secondary and intermediate level. It has jurisdiction over all educational institutions located within Islamabad Capital Territory, Cantonments and Garrisons across Pakistan.
The Federal Board was established with the objective to promote education in Pakistan at the secondary and higher secondary levels in its affiliated institutions. The Board is committed to provide quality education to its learners. The Board endeavors to raise the literacy rate in the country by offering educational opportunities to students at their door steps through our affiliated institutions.
For this purpose, we have developed a user-friendly website with all information regarding exams/results/admissions/affiliations etc. We are also providing service through SMS facility for the convenience of our students and other stakeholders. A new system has been introduced for admission into SSC 9th class i.e. Online Admission System (OAS).
With all these services, I am sure that we are going to make it easier for our students and other stakeholders who are looking forward to be part of FBISE community.
Punjab Board (Lahore, Faisalabad, Multan, Rawalpindi Boards)
KPK Board (Peshawar Board)
Sindh Board (Karachi and Hyrderboard Boars)
Then these notes are helpful to you.
Do I talk complicated and much? Get your notes.
Download Class 10 Maths Exercise 2.7 Notes
Do you want to download the notes? Click Download
Size: 1 MB 
Preview Class 10 Maths Exercise 2.7 Notes
Don't you download the notes? See the notes for Exercise 2.7 of 10th Class without downloading the PDF: